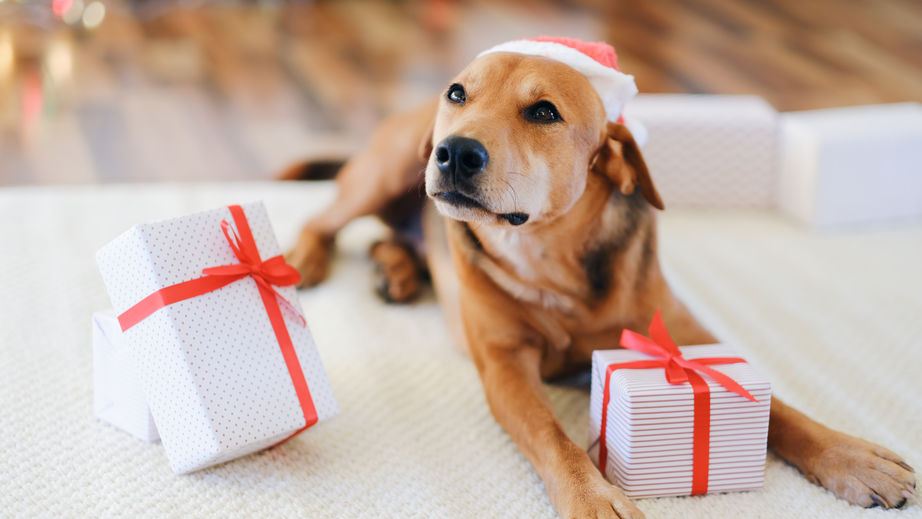 The holiday season isn't just for us; even our furry friends deserve a special treat! While it might be tempting to take the opportunity to spoil them with some table scraps, we have a few suggestions that will make them happy, healthy, and ready to have some holiday fun!
Toys, Training, And Treats!
Each pup is different, but most love a good toy! We recommend durable toys, like Kongs, which can stand up to most levels of play. As a bonus, Kongs can be stuffed with treats such as peanut butter or pumpkin, which can keep your pup enriched and entertained.
If you want your dog to debut some new tricks to show friends and family, or perhaps they could just use a brush up on their manners, our training services are a great fit for any pup. Whether it's brushing up on basic commands or diving into puppy training, ensuring they're well-behaved will certainly add harmony to your holiday or everyday routine.
Pamper Your Pooch With A Spa Day
Who doesn't love a spa day? Pampering your pup with a custom-fit grooming experience can help them not only look good, but feel great. At Room for Paws, we offer a wide range of services to help your pup. And while our services are great year-round, for those in colder climates, we recommend the following for this holiday season:
De-shedding: Dogs often shed their coats as the seasons change, so opting for a de-shedding treatment can help your pup feel more comfortable.
Bath: Our bath includes shampoo and conditioner, ensuring your pup's fur and undercoat stay moisturized and protected. We also offer slow-dry options for noise-sensitive pups, and blueberry facials for a full spa-like experience!
Nail Trim: Since some pups don't see as much outdoor activity in the winter, keeping their nails trimmed protects them (and your floors!).
Teeth Brushing: We offer regular teeth brushing and added breath-freshening, which is especially helpful if your pup will be in your holiday cards.
No matter what services you go with, your pup will thank you!
What's The Best Gift To Give Your Dog?
When it comes down to it, the best gift you can give your pup (and yourself!) this holiday season is the gift of daycare and suite-only boarding at Room for Paws. Our entire state-of-the-art 15,000 sq foot climate-controlled facility is meticulously crafted and features:
Top-of-the-line filtration and drainage systems for optimum sanitization
K9 Grass™
Suites made with Custom-fit USA-made tempered glass and high-quality aluminum
Soothing Fear Free™ colors used throughout
Kuranda™ beds
Agility equipment in all play yards (ensuring our guests are always engaged!)
We also have add-ons such as stuffed Kongs, organic food toppers, dog-safe holiday meals and sheepskin bedding. Plus, we offer our grooming spa services and training as add-ons to our boarding and daycare services, ensuring your pup can have more than their fair share of play, pampering, and personal growth! At Room for Paws Pet Resort, your pup can begin experiencing days full of enrichment and play, nights filled with belly rubs and bedtime stories, and even some training and grooming, while you can relax knowing they're safe and well-taken care of.
Need A Gift For The Dog Lover In Your Life?
If you need a gift that's both thoughtful and practical, look no further! This year, give the gift of luxury pet care to your friends and family with our gift certificates! These are only available for the holidays, so make sure to stock up before it's too late. We're also excited to announce we'll be launching some exciting black Friday deals. While we can't spoil the surprise, we will say one thing: huge savings. Our deals will go live on our Instagram and Facebook Thanksgiving night and end at 7 PM on Monday, November 27th, so make sure to check them out as you finish up your pie or gear up to go shopping!
Though we're located in Stamford, CT, we happily welcome pups from Fairfield County, CT, Westchester County, NY, the NY Metro area, or anyone who wants to treat their pup to a luxury experience. If you're not located near us, don't worry. These tips will still help you find the best gift for your pup!
To learn more or to begin booking your pup's stay, give us a call at 203-459-0002, email us, or use the chat box found on any page of our website.