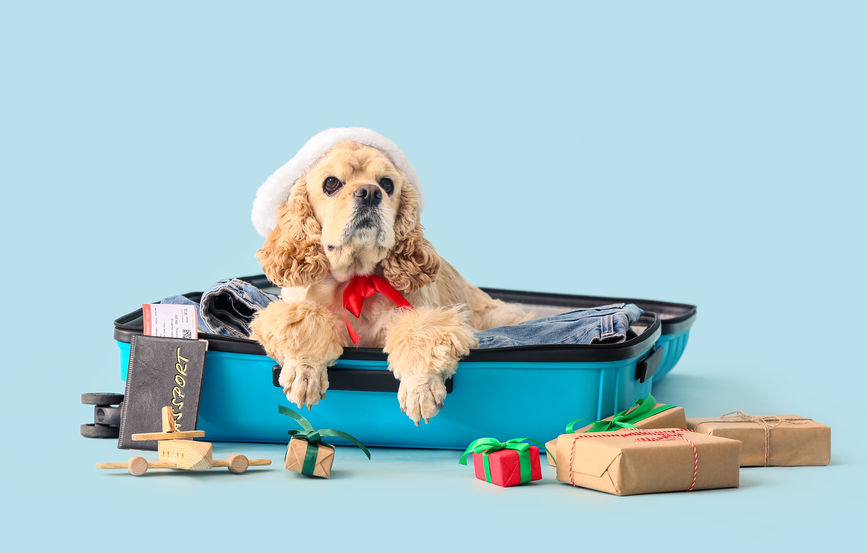 With the holiday season just around the corner, many of us are gearing up for festive dinners, long-awaited reunions, and maybe even some holiday travel. Now's the time to begin preparing holiday arrangements for someone else…. your pup! Below, we'll review our top tips for preparing your dog for this holiday season!
Holiday Anxiety in Dogs
We all want to bring our furry family members with us wherever we go. But it's important to recognize that the holidays, while festive for us, can sometimes be a whirlwind of changes for our pups. With new faces, loud noises, and disrupted routines, some dogs may show signs of anxiety. The root of this unease often stems from altered schedules. One of the best ways to prepare your pup is doggy daycare, which offers a controlled environment and structured routine that pups thrive on. Preparing your pup for these shifts not only ensures their comfort but also allows you to enjoy the season's cheer without any canine complications or worry.
Holiday Travel With Dogs
While some hotels allow pets to stay, they often have strict size restrictions and aren't made for dogs. Which can not only cost you extra money, but cause some unneeded stress to everyone involved.
Instead, consider giving your dog their own resort stay at an all-suite boarding facility! As dog lovers, we at Room for Paws know the importance of having your dog in trusted care, and we proudly offer high-quality and trustworthy care to our furry guests. We get it – leaving our four-legged friends behind can be the hardest part of holiday travels. But knowing they're romping around at our 15,000 sq. foot vet-recommended facility, playing with other pups, receiving attention and love from our staff, and enjoying belly rubs, luxury Kuranda™ beds, and soft music makes it much easier.
When is The Best Time to Book Dog Boarding For The Holidays?
Most people recommend booking your holiday dog boarding at least 4-6 weeks in advance. However, this often leaves people rushing around and picking the first facility they find. When booking holiday dog boarding, it's important to choose a high-quality and vet-recommended facility. Additionally, it's important that your pup is a good fit! The best way to check to see if your pup is a good fit at Room for Paws Pet Resort is to enroll them in our Dog Daycare. When you do, you can sign your pup up for our free Daycare Discovery Day, which will assess their temperament and playstyle to ensure their specific needs are met. From there, having them in the routine of doggy daycare ensures they become acclimated to our facility and staff, making for a seamless transition into boarding.
Holiday Dog Daycare and Dog Boarding in Fairfield Country, Connecticut
Whether you're in Fairfield County, CT, Westchester County, NY, or the NY Metro area, when it comes to dog-focused high-end care, look no further than us here at Room For Paws.
Our state-of-the-art suites are crafted with custom-fit USA-made tempered glass and high-quality aluminum, soothing Fear Free™ colors, and feature Kuranda™ beds. Plus, we offer many add-ons like stuffed frozen Kongs, organic food toppers, and sheepskin bedding – meaning your pup can enjoy their very own version of a holiday meal and fall asleep on extra-cozy bedding. With us at Room for Paws Pet Resort, you can even avoid the hassle of additional holiday travel by adding on our flat-fee valet service (this service is by appointment and subject to availability, so be sure to call and ask us about it when you book)!
To learn more or to begin booking your pup's stay, give us a call at 203-459-0002, email us, or use the chat box found on any page of our website.